Capital Resources Loan Participation Products
Our clients include captive agency owners of Allstate Insurance and independent insurance agents across the United States. We offer community banks like yours the opportunity to expand your geographic reach while increasing industry diversification through the purchase of our commercial loan participation products. We offer a variety of lending products to our borrowers, offering community lenders the opportunity to invest at the risk level they are most comfortable with. Products that we provide to our borrowing customers include:
Loans for the Purpose of Refinancing Existing Commercial Debt
Many agents have previously secured agency financing to purchase a book of business or expand existing operations only to later realize that their current loan does not fit their current needs. At Capital Resources we work hard to develop a relationship with our borrowing customers at the time of the application in order to help identify a loan structure that has the highest probability of being successful for all parties.
Acquisition Loans
Through the years, Capital Resources' focus has primarily been the origination of loans for the purpose of purchasing established insurance agency books of business. Capital Resources has the ability to lend for the acquisition of established Allstate and independent retail property and casualty agencies.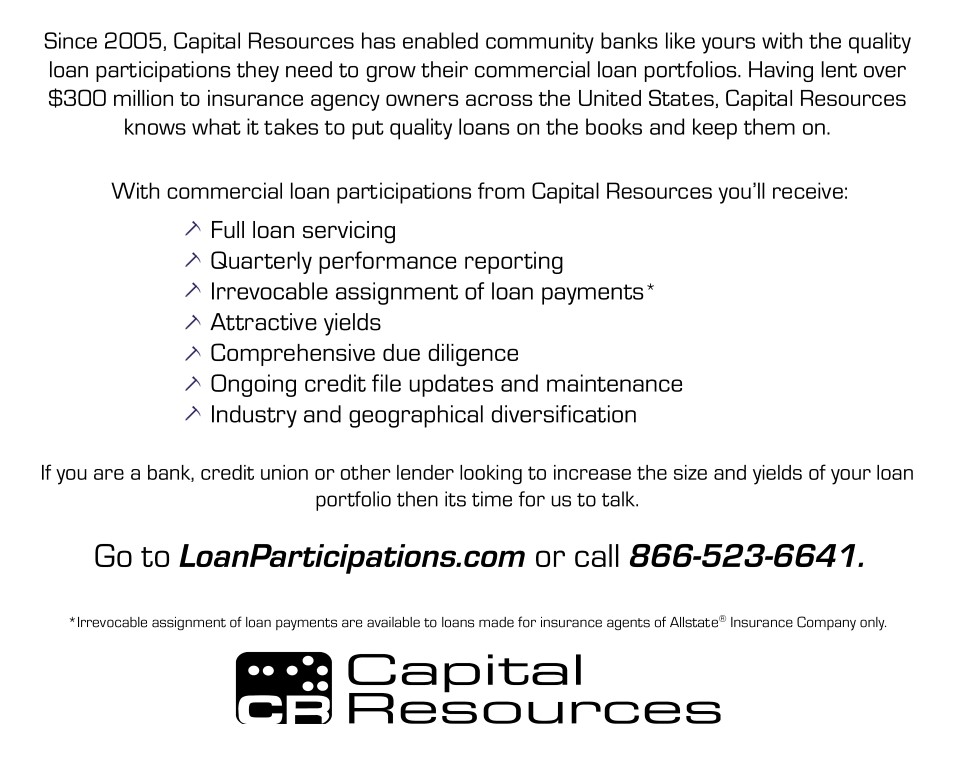 Working Capital
Whether an applicant is interested in borrowing money to expand operations, finance equipment purchases, or increase staffing, we work hard to provide them with the credit they deserve. With our working capital loan options we are able to get insurance agencies the capital they need to succeed.
Whether you are a suburban, rural, or large urban community lender, we have the commercial loan participations needed to help you diversify your portfolio.
Our stringent loan parameters require us to be selective in every loan we approve. Through our unique lending program, only qualified borrowers with quality credit are granted approval, and we manage payment directly. We help banks grow their portfolios, without growing their staffs.