COMMERCIAL LOAN PARTICIPATIONS
Provider of Quality Commercial Loan Participations
Capital Resources is a finance company that offers commercial loan participations to community banks across the United States. Since 2005, Capital Resources has offered community banks the opportunity to participate in the loans we originate to insurance agency entrepreneurs through our commercial loan participation program.
Our industry focus has allowed us to develop one of the most efficient and consistent loan participation programs in the market place today. If your bank is contemplating growing your commercial loan portfolio through buying loans, taking part in a loan syndication, or purchasing loan participations, look no further than Capital Resources.
Community banks across the country rely on us as a valuable resource to grow their loan portfolios at a rate that is determined by each bank individually. If your bank's goal is to just add a few loans to the books occasionally, we can help with that. If your banks goal is to find a consistent source of commercial loan participations to purchase on a regular basis, we're here to help with that too.
We Believe in Our Product
Not all loans that we originate are offered as loan participations. In fact, we keep a substantial amount of loans on our balance sheet. Every loan originated by us is underwritten and serviced the same way, regardless of whether the loan is held on or off our balance sheet.
When you choose to rely on Capital Resources for your loan participation purchases you will work with a friendly, diligent and experienced staff. You will be able to communicate directly with our loan officers, servicing staff and executives.
We Don't Rely on Credit Enhancements
All our loans have recourse back to the borrower(s), but we do not offer recourse back to Capital Resources. Nor do we rely on additional credit enhancements to increase the marketability of our loans. It is our belief that each loan should be made on its own merits, and if a loan wouldn't be originated without a credit enhancement then it shouldn't be originated at all.
We Work Together with Our Participating Lenders
When contemplating the purchase of loan participations for your bank it's important for us to understand your bank's goals and objectives. It's also important to understand your bank's limitations. Those limitations might include geographical restrictions, size limitations, or certain underwriting criteria.
We originate loans to business owners all over the United States, ranging in size from $50,000 to nearly $5,000,000 with most loans under $800,000. These loans may be participated on a whole or pro rata basis, which allows banks the opportunity to purchase in at a level that best fits their needs.
Our Process is Simple
The loan participation process begins with a telephone conversation. During that conversation we'll cover details about our commercial loan participation program. We'll also listen so we can learn about your bank's goals and formulate a plan to help you achieve them.
After the initial phone call, we'll happily provide you with all the information you need to complete your due diligence on our organization, as well as to educate you on our industry specific participation program. Once you've completed all the necessary due diligence — and you and your bank are satisfied with it — we will begin sharing real loan opportunities with you that we believe will fit your needs.
In addition to our own written analysis and recommendations, we will provide you with comprehensive electronic credit files on each loan participation you consider. This allows us to give our own insight into each loan, but it also allows our participating lenders the ability to rely on their own analysis and expertise.
Let's Get Started
Once you've made the choice to purchase a loan participation we will schedule a closing date, execute our standardized participation agreements, and your bank will transfer funds electronically on the day of closing. It's that simple.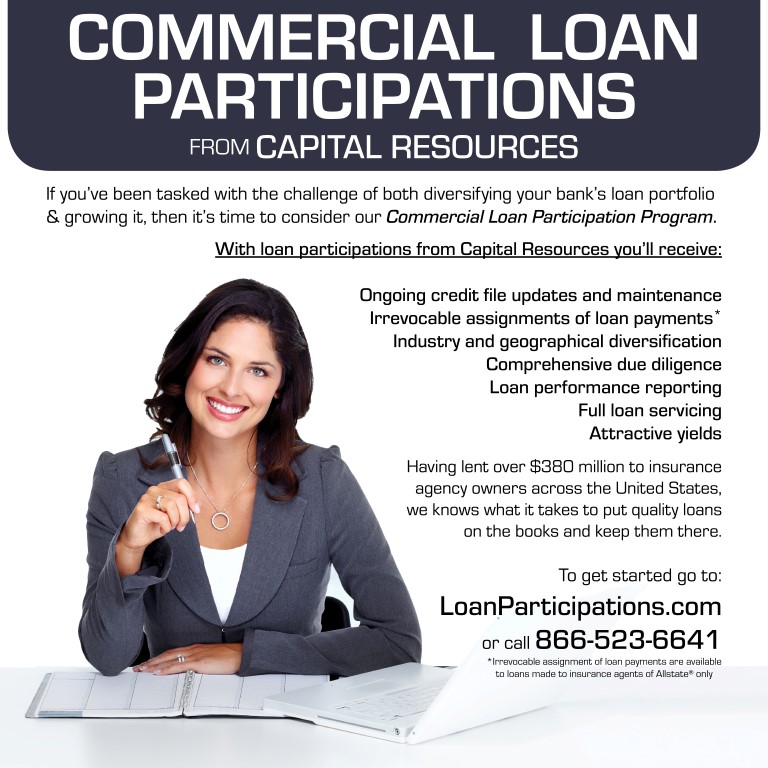 If you're ready to grow your loan portfolio then Contact Us today to get started.