LOAN PARTICIPATIONS
EXPAND YOUR REACH
Since 2005, Capital Resources has specialized in providing quality commercial loan participations to lenders across the United States. Our focus is lending to current and prospective insurance agency owners for the purpose of agency acquisition, expansion, refinance, and working capital. While we do keep a considerable portion of these loans on balance sheet, Capital Resources offers lenders across the country the ability to grow their loan portfolios by purchasing quality commercial loan participations backed by these insurance agency loans. All without having to increase your staff and marketing expenses.
Since our inception, we have originated more than $450,000,000 in commercial loans to insurance agency entrepreneurs throughout the United States. This experience gives us a unique perspective and insight into each commercial loan we originate whether we participate it out to our national bank syndicate or retain it on balance sheet. Capital Resources has become a trusted choice for quality commercial loan participations for over 150 community banks across the country.
Loan participations offered by Capital Resources have full recourse back the borrower. Capital Resources provides comprehensive credit files, fully digitized legal files, regular reporting, and more. What many of our lenders have come to appreciate is their ability to pick up the phone and call Capital Resources and talk to someone who cares. Whether they have a question on a new loan participation opportunity or need additional clarification on a previous participation purchase, the people at Capital Resources are eager to help.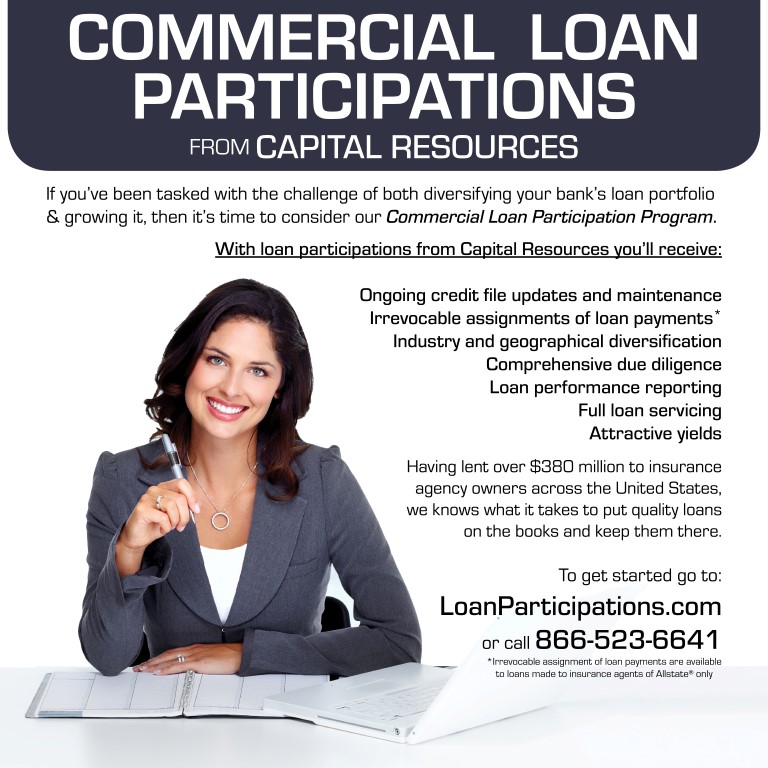 ---
CAPITAL RESOURCES' LENDING EXPERIENCE AND EXPERTISE MAKE US A RELIABLE AND TRUSTED PARTNER IN YOUR EFFORTS TO EXPAND YOUR INSTITUTION'S REACH. WE HAVE LENT MORE THAN $400 MILLION SINCE 2005, AND OUR EXPERTISE INCLUDES LENDING, LOAN SERVICING, INSURANCE AGENCY OWNERSHIP AND MANAGEMENT, INSURANCE COMPANY REPRESENTATION, TRANSACTIONAL LAW, AND MERGER/ ACQUISITION FACILITATION. WE KNOW THE INSURANCE INDUSTRY, AND INTIMATELY UNDERSTAND MARKET TRENDS AND FUTURE LANDSCAPES. WE KNOW HOW TO GET QUALITY LOANS ON THE BOOKS AND HOW TO KEEP THEM THERE.