Loan Participation Experts
Your Strategic Partner for Loan Participation
Capital Resources is a finance company based out of Overland Park, Kansas who specializes in loans for independent insurance professionals as well as captive agency owners of Allstate Insurance. Our specialized focus has allowed us to provide community lenders nationwide with high quality commercial loan participation products for over a decade.
With Capital Resources, loan portfolios grow, but expenses don't. We help community banks grow their commercial loan portfolios without having to increase staffing or increasing their marketing budgets. Our lending partners rely on us to help ease the burden of loan growth by leveraging our people and expertise.
At Capital Resources, we offer community banks like yours the opportunity to expand your geographic reach while increasing industry diversification through the purchase of our Loan Participations. We have more than 100 combined years of industry experience, and our expertise includes lending, loan servicing, insurance agency ownership and management, insurance company representation, transactional law, and merger/ acquisition facilitation. We know the insurance industry, and intimately understand market trends and future landscapes. We know how to get quality loans on the books and how to keep them there.
For interested lenders, we don't just provide an opportunity for investment, we offer strategic loan participations designed to increase and strengthen commercial loan portfolios. We want our lenders to succeed regardless of the economic climate, and we will uniquely cater to lender needs to ensure success.
If you are interested in learning in taking the first step in becoming part of our network of participating lenders, then call us today at 866-523-6641. Or, if you prefer, fill out the form below and we will contact you. We are eager to share with you more about our company and our products and to learn about yours to discover if a participation partnership together is the right fit for both.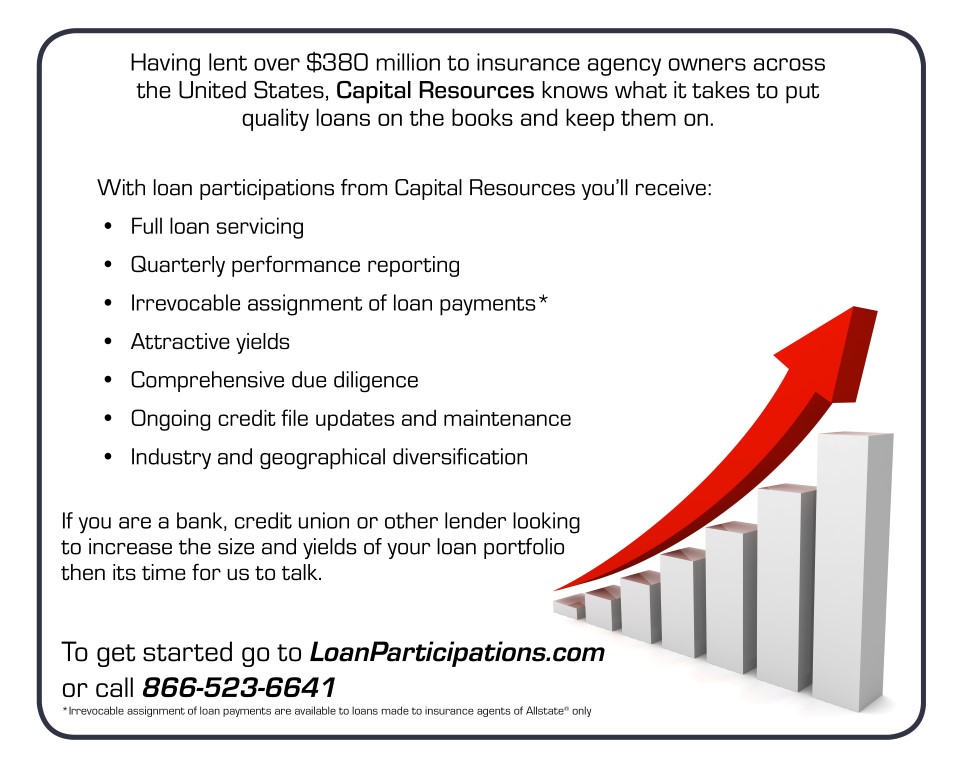 We specialize in providing quality commercial loan participations to lenders across the United States. Our participations are backed by loans to current and prospective insurance agency owners and financial advisors for the purpose of business acquisition, expansion, refinance, and working capital. 
Having originated more than $500MM in loans, we have a unique perspective and insight in the industries we specialize in. We leverage this experience to help our participating lenders grow their loan portfolios without growing their expenses. 
We provide quality loan products to those in the insurance and wealth management industries, while helping community banks expand their loan portfolio's size and industry diversification.
Credit Quality
Prior to approving a loan, we will review an agency's entire financial history, as well as market trends, both current and projected, to ensure the investment is a sound one.
Portfolio Growth
Since 2005, community banks have turned to us to help them grow their commercial loan portfolios.
Our Office
13200 Metcalf Ave Suite 190
Overland Park, KS 66123
Office Hours
Mon-Fri: 9am - 5pm
Sat-Sun: Closed
Contact Us
(866) 523-6641